10th October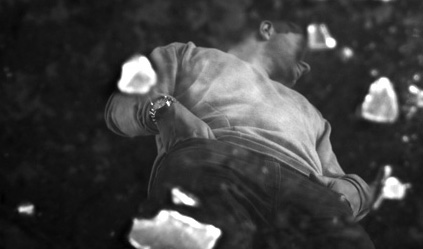 On Friday 25th October (Halloween weekend) at Cruciix Lane, EarToGround will throw its first party in London since 2011. We took a break for a while to focus on building our label, into something we would be able to look upon and feed with our passion for techno for many years to come.
Now we are back to give you some great nights of music in LDN again, so as we did before, we'll be bringing you in demand artists and some friends we've picked up along way to display their talent to the London techno faithful.
So we are proud to have announced that the three main acts on the night of our EarToGround : Dark Sessions will be Jonas Kopp (UK debut), Markus Suckut and Reeko (London debut)!! With our resident label crew Gareth Wild, Dax J and Chris Stanford also featuring.
Ahead of the forthcoming event we caught up with Markus Suckut for a brief insight into his world…
Hello Markus, first of all thanks for accepting our invite to join us on the night, we're sure your going to give us a solid set. You've been a busy man over the past couple of years especially, there's often a great new ep or first class remix from you in our bags. Dance floor ready stripped back raw techno, of course we've known this for sometime, its why we asked you remix for ETG002: Secluded – Confront EP.
So how's things? What's keeping you busy at the moment music wise?
– All is good at the moment for me, I am healthy and happy with how things are developing. I am focusing on original stuff at the moment. I've bought a couple of new things for my small studio. I am really happy what's happening with these new tools.
You started your own label, SCKT not so long ago, vinyl only project too. What kind of satisfaction did you get from starting the label and can you give us any info on what's coming up?
– Yes. That was a big step for me and definitely the right decision. I have all the freedom about the music and graphic design. That was the most important for me. There's one more remix EP coming up with remixes from The Artist Formerly Known As 19.454.18.5.25.5.18, i guess he doesn't need any introduction and also Albert van Abbe will be on this release. I really like his music since I've discovered his label No Comment. The series is just about the music, not about names or so. Also I have just finished SCKT03 which should be out early 2014 I guess.
Ok lets go back your early years, where did you grow up and what music was you into in your teens, any clubs or gigs in particular that hold strong memory?
– I grew up and still live near Essen/Duesseldorf in Germany. I've listened to a lot of rock music because of my father but I've discovered electronic music kind of early. I was hanging around a lot with classmates and I've played soccer in a local team for at least 10 years. I nearly never was going out to clubs here cause I think we have not that many cool clubs here.
And can you tell us some of your early inspirations that drew you into the sound that is techno?
– That's difficult to say for me. It was more commercial dance and trance music as I just had a public radio and music TV as a source for this kind if music. I also was to young to go out or to know what's happening around all that.
So your 27, music is your living and way of life, right? Can you tell us some of the defining moments that have kept you on your path to getting to where you are today?
– Actually I am 26 and I still have a day job as a graphic designer.
One of those moments where, when Len Faki came back to me and said that he wants' to release the tracks I gave to him, The album process was also showing me that i am on a good way. It showed me that Len is trusting me 100% in what i do. It's important to me to have this kind support. It's my biggest passion to do music and djing but if no one would believe in what i am doing I wouldn't be where I am today. I have to thank a lot of people out there, supporting me.
If its possible to ask this question to somebody who obviously has a determined commitment to both. What do you enjoy most, playing music or making music? What do they both mean to you?
– I like both of them. Making music is very special and intimate. I can do what I want to do, express feelings, but no one is there when my tracks are developing. No one says it's good or not, as i don't have any reaction. When I am djing I have reactions from a lot of people. It's also great to share music, make them dance and having a good time together. It's the best thing in the world for me when I see that the people are enjoying what I enjoy – playing out music.
You've played some heavyweight venues in recent times, but we've noticed you'll be playing at Womb in Japan on the 28th September. A special place to play by all accounts, first time at the club? First time in Japan? What are you anticipating from your approaching trip?
– It will be my first time in Japan all in all. I wanted to play the Womb since i've listened to Chris Liebing's live recording from there and i still can't believe to go there, experiencing that culture and vibe on my own now. Also I will see my friend A. Mochi in Tokyo, as he will play also that night at the Womb.
So I am looking forward to some sightseeing, inspirational moments and hopefully a good vibe there.
Well Markus, its been an absolute pleasure speaking with you. We'll be counting the days until Fri 25th October when you join us for EarToGround in London, for what will certainly be a long night of stomping!