21st November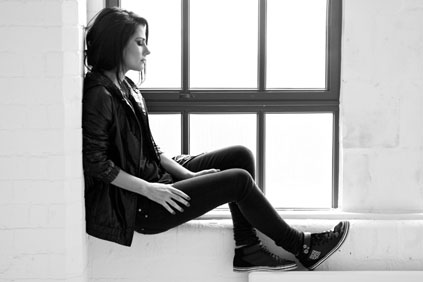 As EarToGround looks forward to its 6th consecutive vinyl release in little over a year. We thought we'd have a little catch up with, not only one of the remixers of Mathias Woots eagerly anticipated "Frostmorne EP", but also a close friend of the ETG family… Rebekah.
Hey Rebekah, seems like 2012 has been quite a year for you, lots of changes and many things in the pipeline and going very well by the looks of it too. Plenty to discuss but let's start with your relocation from Birmingham to Berlin.
Obviously Berlin is notorious for having the best music and arts culture in Europe, so its no secret as to why djs & producers at a professional level seem to flock there. How have you found the complete change in culture, what are you enjoying about the city and do you think this is a long term move for yourself?
Moving to Berlin always seemed like a distant dream but it has come round fairly quickly. I absolutely love it here and love the creative lifestyle and easy going attitude the city radiates. When I was in the UK it felt very insular but now I am with like-minded people who are on the same path and who enjoy socialising in the week. So for me it's a lot about people, a lot about creative freedom but the city itself can be anything you want it to be with its many sub cultures and differing moods. Not sure for how long I will be in Berlin but right now I have no plans to leave. 
There's something very much in common with both Birmingham & Berlin, that being their huge export of techno back in the 90's that along with Detroit and probably only a few other cities helped kick start the global techno scene into what it is today. You was only a very young lady at this time but can you tell us any memories you have of the early Birmingham scene, the dj's, parties and did this inspire you to become who you are?
I got into techno back in 1997, the good old days, which was relatively late in the day for the whole Birmingham movement. My inspiration will always be the Atomic Jam parties; it was definitely my rave period. The big scale techno events held at the Que Club was like nothing I had ever seen. Dave Clarke played some of his best sets there and to this day they are a big influence. House of God was in various locations across the city, Surgeons sets would vary which was inspiring to hear. I wasn't familiar with a Birmingham sound at the time but those huge industrial distorted kicks is what stood out and what I carry through into my sets and productions today.
You've been a DJ for many years before becoming a producer when did you start mixing and do you remember your first set in front of a crowd?
My first set was back in 1997, playing at Moseley Dance Centre in Birmingham. To be honest I didn't quite know what I was doing and managed to fluke the mixing, can remember being very nervous and my hands were shaking a lot, my Mom made me a little outfit (I was 17!!!) but I wouldn't take off this big cardigan, I was too shy.
It's no secret to many now that just over a month ago you announced you would be joining the team of Chris Liebing's infamous CLR label. Did this happen all of a sudden or had you known for some time? Must've been quite overwhelming being called up by Mr. Liebing?
It kind of goes back to the Matador – Blond Slackers remix, Chris was playing it after Tommy Four Seven passed it to him. He liked it and we started to talk a little and I sent over more music, which he again liked and played, then in 2012 he asked me to do the CLR Podcast and hinted it was an introduction to getting me involved with the label. I thought nothing of it, it was an exciting idea but I can't put pressure on myself as all creativity gets lost. By carrying on sending music over to Chris we soon had some options on a track for VA, which is due out early next year and then the question arose of whether I would like to join the family. Long story…short!! I was in shock for a couple of months, when they asked I wasn't expecting it, so it did knock me sideways.
We understand you won't be able to reveal everything but can you tell us a bit about whats happening with your involvement with CLR? What's happened so far and plans for the near future?
Not sure anything is that top secret! But I have just finished recording the next instalment of the Reconnected Series, which is a mixed compilation of some recent CLR tracks plus a choice of music from the back catalogue to pick out some older tracks. It was good fun to mix. As well as the VA we are looking at an EP for 2013. But with the move to Berlin, I still haven't settled in to making original tracks yet but its getting closer, I kind of went remix crazy, so finishing those off and then looking at different ways to approach making music again. Berlin gives you a lot more freedom creatively; definitely feeling more and more inspired and can't wait to start writing.

Your gig diary seems to have been very busy this year and you've been travelling a lot, what's been your highlights, favourite place you've visited and most memorable party you have played at?
A lot of the time I don't get to stay that long in a place, so for me it's the people and attitude that really makes the place most memorable. I felt that the people of Luxembourg and I had a strong connection, they were good people to hang out with. Gig wise I enjoyed playing at La Graviere in Geneva; it is like a little slice of Berlin! Playing Tresor was an amazing experience; everyone was crazy and so warm. The most outrageous would have to be Tomorrowland on the Coincidence Records stage, which was just silly, there was stage diving and flashing in a tunnel with a capacity of 100 people. The smallest big main stage vibe I have encountered!
And what forthcoming shows are you most anticipating?
Wow…all of them. I get hyper for every single one of my gigs and always anticipate the unexpected. I'm currently touring a lot in Germany and the people are nuts…seriously!
You've also recently launched your Decoy Records label can you tell us about the labels concept and what the readers should look out for release wise?
It's been a very exciting project! It features some UK artists such as Chris Colburn, Chris Page, Dead Sound, Chris Finke and a fellow producer from Birmingham and one to watch (or perhaps listen), Jake Conlon. We have some awesome remixes from the likes of Blawan, Inigo Kennedy and Perc. The ethos is simple, just quality techno. The other side of the coin is; would I play it in a set? All the music is tried and tested on the dance floor. The first vinyl release is out on the 26th November.
Outside of your circles is there any particular producers or labels that seem to be pleasing your ears quite frequently or can't help but fall into your sets most weekends whether it be newcomers or the well established?
MPIA3…! His tracks are ridiculous, enough said. Jonas Kopp has been slamming it in the studio for many years and I still get excited with every EP release and remix he does. Audio Injection/Truncate can be found in my sets both alias' for different reasons. I am also a huge fan of James Ruskins productions too, with the likes of Sabre, Graphic and Scene having a special hold over me. Then there also seems to be some unusual gems knocking about on Turbo and 50 Weapons.
We've seen via your Facebook page you like to look back now and again, posting up old records. If you could tell our readers to check out one track that, gets you every time you hear it, what would it be?
Dave Clark – Thunder – Red 3 makes me grin like a 5 year old from ear to ear. I will never tire of listening to it! Fact!
Ok Rebekah been an absolute pleasure speaking to you, congratulations on a successful 2012 and wishing you a merry xmas and a happy new year!
Thank you! And Happy Xmas and new year to the ETG crew!
Look out for Rebekah's remix along with one from Psyk too on "ETG006 – Mathias Woot – Frostmourne EP". Coming very soon on vinyl only!