24th May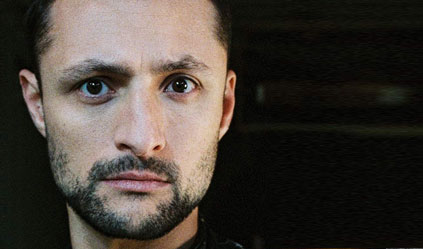 Soon enough on EarToGround we'll be embarking on another four-track vinyl only release with new collaborated material from label boss Gareth Wild, Chris Stanford and Dax J. The tracks on the Villains EP, "Moonraker" comes with a deep rework from Ryan Elliott, and "Engineers Revenge " has a chugging remix from Luis Flores.

Ahead of ETG007 we talked to Berghain & Panorama Bar resident Ryan Elliott.
Hey Ryan, hope your looking forward to a great summer in Berlin.
Perhaps we should start this interview with a little insight to your roots from back in the states. Tell us a bit about where you grew up and your early experiences of music back home in Detroit?
— I grew up just outside of Detroit. We had all the Detroit TV and radio stations so I would come home from school and watch "the scene" or "the new dance show". I also really enjoyed listening to Detroit's National Public Radio station (WDET) that play lots of exciting electronic music. Also on the radio were Jeff "The Wizard" Mills and "The Electrifying Mojo" – they really exposed me to these sounds as well.


When and how did things start moving in the direction that music could maybe a career for you one day?
— Upon finishing my university degrees, I came back to Detroit and started going out to clubs and studying the DJ's. I knew then what I had to do with my life.
We suppose the next chapter begun when you relocated long term to Berlin, what were the deciding factors that making the big move was going set you path for the foreseeable future. Also was there anyone or anything that helped to encourage your decision?
— I was at a time in my life where I knew that to really become successful as a DJ I was going to have to get out of the US for a while. Berlin was the obvious and natural choice. I've always thought Detroit and Berlin feel very similar. I also had quite a few peers and friends already in Berlin, so the decision wasn't very hard at all.


Since then you've been a resident at Berghain & Panorama Bar for sometime now, your one of the few people that gets the chance to play in anywhere in the club complex that oozes with inspiration. How is it that you became a flexible resident that rotates his style on regular basis?
— I've always played all the way from very slow and deep house, through to 135 bpm banging techno. There are just so many good records out there in both genre's I have to buy and play both ways.


Your tour schedule is ever jam packed with dates, in the next month you have 3 dates in Australia, 3 in the USA including DEMF in Detroit, London, Berlin, Barcelona, Amsterdam, oh and lets not forget Hideout Festival in Croatia. So we guess Mondays mean sleep time, unless of course you are still playing in the morning of course. Do you believe in time management and do you give yourself a routine for the next 4-5 days until it all starts again, some must do tasks?
—I'm a very very routine driven person. Travelling so much means there just isn't time for a lot of the unnecessary time sponge stuff. I'm also a firm believer in exercise helping with all the travel, especially when you take 20 kilos of records everywhere you go!
So other than the remix you've done for us at EarToGround what else is coming up for Ryan Elliott, album or something anytime soon?
— My next EP for Ostgut will be released in mid June. I also have remixes coming up for Deep Moves, Sushitech, Work Them Records, and EDEC.


Been great speaking with you and we know you've supported our label since its early days. So its very nice for you to feature with a remix on the forthcoming release.
— Its been very nice working with you guys too. As someone who always buys and plays your records I was honored to be asked to get involved. Thanks!